We are Wild, an experiential marketing and talent agency that is focused on providing the best quality entertainment for high end clients and celebrities. We work hard to build our business, one customer at a time.
EXOTIC EXPERIENTIAL ENTERTAINMENT
Wild Entertainment provides the best in exotic experiential entertainment. We offer inside information on your favorite dancers and shows and even have reviews and our own unique video gallery. We have friendly and experienced staff that can help guide you through the party planning process.
Our men and women are hand selected from a large number of applicants and are carefully screened. We only want the most professional talent available. No experience is necessary. We can train you. We need talent that is punctual and communicates well.
We produce entertainment packages for a variety of events and create custom shows.
Our entertainers are available for bachelor and bachelorette parties, birthday parties, bridal showers, girls night out, guys night out, divorce parties, or whatever your occasion is! We supply talent for TV appearances, conventions, trade shows, party buses, promotional events, and other various gigs. We also specialize in party bus packages.
Solid Reputation
Wild Entertainment was founded by Steve Kim who moved to Las Vegas in 2003. He has owned and operated several businesses including a digital media agency and a webcam studio.
Wild Entertainment is the only exotic entertainment agency that has been endorsed by the Better Business Bureau as an A+ certified business. We have had this certification since 2008. We also have hundreds of 5-Star Yelp and Google Reviews.
We are an honest and transparent company and we are happy to disclose our business license and insurance information upon request.
Class and Professionalism
Since its inception, Wild Entertainment continues to features the most accomplished Las Vegas style, fully choreographed male striptainers in the country. Wild Boyz has been featured on local and national news and TV programs as #1 party planning service for Birthdays, Bachelor/Bachelorette Party and any special occasion.
Wild Entertainment is proud to support the following charities: St Jude's Cancer Research for Children, Polaris Project, GEMS and Free The Slaves. We were a proud sponsor at the St Jude's Fashion Fundraiser held in Anthem, NV on Saturday May 4, 2019. Learn more by reading our Mission Statement.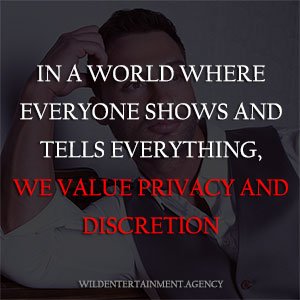 Privacy & Discretion
What happens in Vegas stays in Vegas! Your privacy is important to us therefore, we have created the atmosphere where ladies and gentlemen can let loose and run wild. Over the years, Wild Entertainment has attracted the likes of a-list actors, media icons, and celebrities but in most cases, you'd never know. If it's discretion a client desires, it's discretion they will receive.
"Wild is the first of it's kind. An honest and transparent exotic entertainment company."
Every night the sexy Wild Boyz and Girlz are here to serve you with an evening of decadence you will never forget! In the spirit of Wild Entertainment, you and your guests of honor will be treated like royalty. Sexy sculpted bodies, phenomenal show, outgoing personalities and desire to exceed your every expectation will ensure your event to be fun and memorable.
Nightclub & Dayclub Packages
Male Revue & Burlesque Shows
We're Hiring!
We find and offer a wide variety of gigs that are fun, safe, professional and with the highest pay in the industry.
For men, these are the jobs we're hiring for: buff butlers, striptainers (male dancers), atmosphere models, fitness models, and male companions. If interested in learning more about becoming a male talent for us, click here.
For women, these are the job's we're hiring for: sexy waitress/bartenders, ambiance models, burlesque and gogo dancers, striptainer, golf caddy, sushi model and card dealers. If you're interested in becoming a female talent for us, click here.
"I love working with Wild Entertainment. As a model, entertainer and hostess, I have worked many different types of exotic entertainment jobs in Las Vegas. This is the first agency that really shows they care by providing a safe and friendly work environment."
"I was put in charge of planning my brother's bachelor party in Vegas and was referred to Love Bunnies by a friend of mine who had used them before. I couldn't believe the girl's who showed up looked even better than their pics! Our experience with this agency was outstanding. "
"I am a model, dancer and promoter in Las Vegas. I've worked with Wild for several years and they are awesome at providing the best paying jobs. I also promote them as an Affiliate and earn nice commissions as well."
Are you a nightclub or strip club?
So what exactly do you offer?
We are primarily an exotic marketing and talent agency. We have the largest selection of exotic entertainers in Las Vegas and we have talent in most major cities throughout the U.S. We provide exotic entertainers for hire, as well as custom party bus packages. We also offer nightclub, dayclub, and strip club packages.
Where are you located?
Our office is at 3281 S. Highland Drive, Suite 804, Las Vegas, NV 89109. We are across the street from the Spearmint Rhino and Planet 13. Visits by appointment only.
I have a question
We're happy to answer any questions you may have! You can reach us by calling (855) WILD-AGENCY or texting (702) 605-0800. You can also send us a message.
Are you a legitimate business?
Yes we have been in business for over a decade and we are licensed and insured in Clark County. We are also the only adult entertainment agency with a 12 year A+ history with the Better Business Bureau.
I would like to promote your business
We would love to have you join our Affiliate team! Visit our Affiliates page for more information.
OUR HOURS
We are open 24/7
Office visits by appointment only
Do not call about Employment